About Conference
Allied Academics Publication is an amalgamation of several esteemed academic and scientific associations known for promoting scientific temperament. Established in the year 1997, the conferences provide a global platform for the attendees to showcase their research and services in front of many key players in the field.

We proudly announce the upcoming conference Global Hematology 2020 in Rome. The details as below:

Title:

5th International Conference on Clinical Hematology and Transfusion Medicine

Date & Venue: Feb 24-25, 2020 Rome, Italy

Theme: Breakthrough notions in Hematology and Transfusion Medicine

We are a globally recognized and trusted organization to provide unique scientific and business services through our Journals and we are expanding the functionality of our International conferences.

Our primary focus is to support original research work, share and exchange the ideas of authors from various institutions with the world. Our journals act as successful outlets for numerous scholars including teaching professors and researchers.

Meet the Global Inspiring Experts and Speakers at Allied Academies Conferences to talk about on new advances in the field of medical and engineering to improve e health and treatment and additional innovations. Our Conferences is not just to make a phase to exchange estimations to the enormous social occasion of individuals, yet also endeavor to spread focused and research advances in the clinical and physiological parts of various fields
Welcome Message
Success of Global Hematology 2019 has boosted our gusto to conduct another event in 2020. Hence w
e are honoured to welcome you to attend the

"
5

th

International Conference on Clinical Hematology and Transfusion Medicine"
which is going to be held
on 24-25 February, 2020 at
Rome, Italy
. Theme of the conference is
Breakthrough notions in Hematology and Transfusion Medicines
that
incorporates prompt keynote presentations, Oral talks, Poster displays and Exhibitions.
Scientific Sessions
Anaemia

Blood coagulation mechanism

Polycythaemia

Histiocytosis

Hematologic neoplasms

Sports Hematology

Regenerative Medicine Applications in Hematology



Thrombocytopenias

Henoch-Schönlein purpura

Osler-Weber-Rendu disease

Haemolytic-uraemic syndrome

Drug reactions

Steroid purpura

Senile purpura

Hlers-Danlos syndrome

Marfan syndrome

Osteogenesis imperfecta



Echocardiographic

Cardiotoxicity

Chemotherapy

Cancer Genomics
General Hematology

Pathology

Oncology

Lymphomas

Leukemias

Pediatric Hematology-Oncology

Pediatric Hemato-Cardiology

Patient Management Care


Seizures and epilepsy

Headaches

Developmental disorders

Brain tumors

Sleep disorders

Nerve and muscle diseases

Movement disorders

Metabolic diseases
Hodgkin and non-Hodgkin lymphoma

Myelogenous leukemia

Acute lymphocytic

Chronic lymphocytic

Multiple Myeloma
Blood Syndromes: Diagnosis and Treatment

Bone Marrow Transplantation

Hematopoietic stem cell therapy

Cord blood transplantation

Gene therapy

Chemotherapy

Radiation therapy
Blood cancers

Skin cancer

Breast Cancer

Colorectal Cancer

Bone cancer

Paediatric cancers

Gynaecologic Cancers

Brain and spinal cord injury

Neurodegeneration

Blood cell formation

Pancreatic beta cells

Orthopaedics

Wound healing

Infertility
Human Leukocyte Antigen (HLA) Matching

Graft-Versus-Host Disease

Diversity

Infectious Disease Transmission

Clinical Data

Engraftment

Storage

Research and Clinical Trials
Anaemia

Leukopenia

Thrombocytopenia

Polycythemia

Leucocytosis

Thrombocytosis

Hereditary myeloid malignancies

Clonal Hematopoiesis

NK/T-cell lymphomas
Genetic markers

Tumour markers

Cancer biomarkers

Diagnostic Biomarker

Biomarker Discovery
Hemochromatosis

Idiopathic thrombocytopenic purpura

Malaise

Bone marrow transplantation

Blood transfusion
Transfusion related acute lung injury (TRALI)

Acute kidney failure

Antibody screening

Gel Testing

Pretransfusion testing module

Rh-sensitization
Hematology and Pharma Industry

Biological drugs

Generic drugs

Increased investments

Healthcare expenditures
Immunologic Reaction

Infection

Inefficacy

Sickle Cell Disease

Hemostasis

Thrombosis

Cellular Therapies

Acanthocytosis

Cancer infection control

Thrombocytopenia in new-born

Systemic Disorders

Anisocytosis

Congenital dyserythropoietic anaemia

Related Conference of Pediatrics




·
Market Analysis
Market Analysis Report
The scope of the worldwide Hematology market is expected to grow over the next few years owing to rising occurrences of blood disorders such as anaemia, malaria, and thalassemia, combined with increasing incidences of kidney ailments. In addition, the arrivals of high throughput Hematology analyzer will enhancement the market's growth. An increasing number of blood donations, especially from developed countries are necessitating the claim for Hematology analyzer. As blood donations continue to rise, the need to precisely analyse these samples will act as a major driving progress factor for the global Hematology analyzer market over the next few years.
The Hematology marketplace was esteemed at US$ 3,167.2 million in 2017 and foreseeable to range US$ 5,288.3 million by 2028 at a CAGR of 5.9% throughout the forecast period from 2018 to 2026.
The International Hematology Analyzer and reagent market is projected to index an impressive enlargement at 5.7 percent CAGR during 2018–2024, foresees Persistence Market Research (PMR). In 2017, the market was appraised at revenues worth USD 1433.43 million, and is estimated to surpass USD 2000 million by the end of 2024. By 2024, the six-part differential analysers segment is anticipated to touch USD 230 million on account of a high CAGR of 6.1 percent during 2018–2024.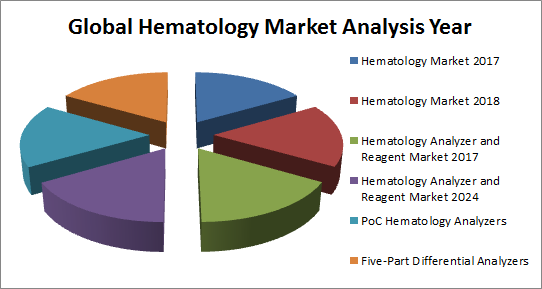 The five-part disparity analyzers are appraised to remain sought-after products, with sales predictable to reach USD 1386.7 million by end of 2024. Three-part and five-part differential analyzers are expected to witness parallel expansion at 5.6 percent CAGR through 2024. Additionally, the standalone hematology analyzers will remain most-beneficial in the market, expanding at 5.8 percent CAGR through 2024. These analyzers are highly preferred among large-scale hospitals in developed economies. In addition, sales of PoC hematology analyzers are estimated to reach USD 929.2 million by the end of 2024.
At present, North America is the chief market for hematology analyzers. This market style can be endorsed to the increasing frequency of blood disorders. The increasing circumstances of blood-related disorders, such as anemia, blood cancer, etc., may lead to the progression of the hematology market. Europe is the second-prevalent market, while Asia-Pacific is the firmest growing region.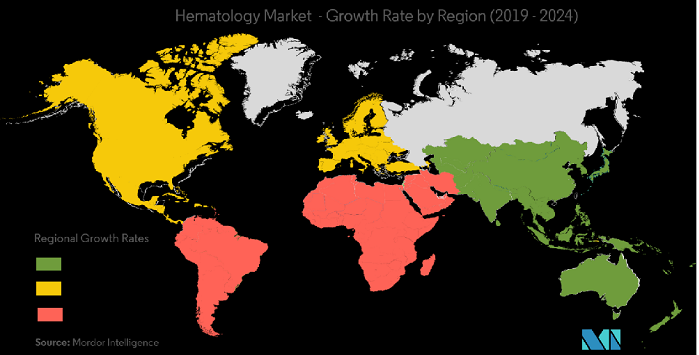 Global Hematology Societies:
Hematology Societies in USA:



Hematology Societies in South Africa: